Let's assume for a moment that traveling the world in search of new courses to play and new scorecards to fill out is something that golfers will be able to do without reservation in 2022. (Or at least do relatively safely by taking common-sense precautions.) The question then becomes, where should you go?
Many golf travelers will be itching to return to places they know and love—whether they be domestic destinations like Arizona and Florida or international ones like Scotland and Ireland. And there's nothing wrong with getting reacquainted with old friends. But think about it: At one point, the courses you love most now were new friends. And there's a wide, wide world of courses both old and new that you might want to include in your travel plans for 2022; courses in locations both exotic and unexpected from some of the game's top designers—and others from architects destined to receive acclaim for the new work they've done.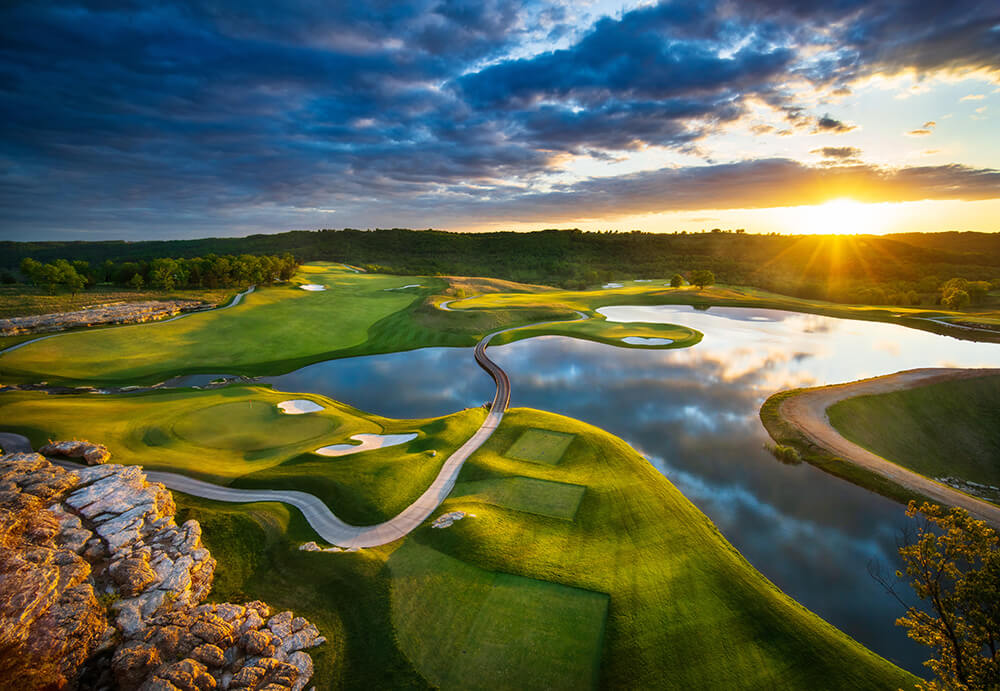 Here are a few suggestions to get your golf-travel juices flowing, both foreign and domestic.
U.S. Destinations
American Dunes (Grand Haven, Mich.)
Near the eastern shore of Lake Michigan, American Dunes offers what they call "Golf's Most Heroic Round." There, you can play a course opened in 2021 created to honor American warriors—and fund legacies for their families. When you do, not only will you do battle with a terrific Jack Nicklaus-designed layout, you'll help raise funds for Folds of Honor, an organization that awards scholarships to dependents of servicemen and women killed or disabled in the line of duty. The course winds between stands of trees and sandy waste areas and is both visually and strategically rewarding. You'll never have more fun being patriotic.
While You're in the Area: Don't miss the chance to play Arcadia Bluffs, Crystal Downs, Lost Dunes, and Tom Doak's clever reversible course, The Loop, at Forest Dunes.
Old Toccoa Farm (Blue Ridge, Ga.)
This celebrated new course is located about 100 miles north of Atlanta in the Blue Ridge Mountains. Three holes play along the Toccoa River, while others take you up onto more elevated terrain, where there are few level shots and even fewer level lies. Old Toccoa Farm isn't a long course—but it's tight. You'd be wise to think through your club selection and placement on tee shots if you want to keep your ball in play and have any chance of getting approach shots close. It's mountainside golf with blind shots, drivable par fours, and gorgeous mountain views galore. A definite must-play in 2022 or whenever you can get there.
While You're in the Area:
The Jim Fazio-designed course at Barnsley Resort is another good choice, and the five-star Chateau Elan Winery and Resort, with its 45 holes of golf, is just a short drive away.
Payne's Valley at Big Cedar Lodge (Ridgedale, Mo.)
Like Bandon Dunes, Big Cedar Lodge is a self-contained, multi-course nirvana for golfers (and here, other outdoor sports enthusiasts, as well). You're in the mountains again—this time the Ozarks—with five terrific courses to choose from, including the Tiger Woods-designed Payne's Valley, named in tribute of Payne Stewart who was an Ozark native. With water on many holes and one elevation challenge after another, Payne's Valley will test your game in every way. And its now-famous bonus hole, an island-green par three set in a narrow limestone quarry, is worth the visit alone.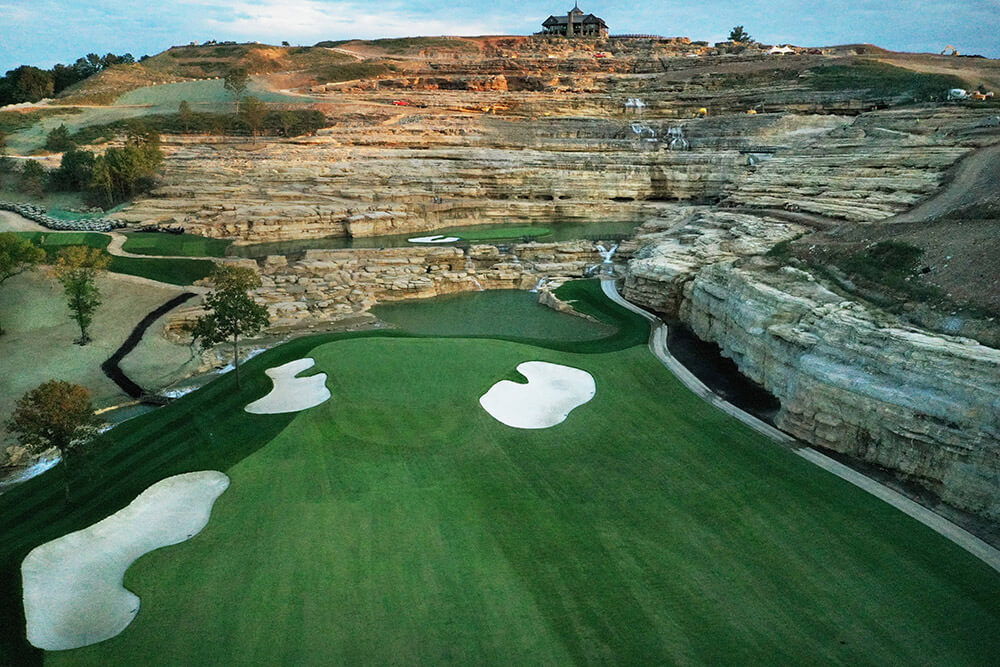 While You're in the Area: Don't skip any of Big Cedar Lodge's other courses designed by some of golf's greats: 18-holers Buffalo Ridge (Tom Fazio) and Ozarks National (Coore & Crenshaw), and short tracks Top of the Rock (Jack Nicklaus) and Mountain Top (Gary Player). And they're not the only good golf in the Branson area. Courses like The Pointe, Thousand Hills, Ledgestone, Branson Hills, and Holiday Hills are all visit worthy. After golf, Branson offers much more: world-class fishing and other outdoor adventures, the Silver Dollar City theme park and other attractions, a historic downtown, museums, and great dining options.
PGA Frisco (Frisco, Texas)
You may have heard that the PGA of America was moving its headquarters from Florida to Frisco—just north of Dallas. Along with that move has come the opportunity to custom build a campus dedicated not just to advancing the careers of PGA professionals, but to celebrating the game in many other ways—including the playing of it. Gil Hanse's East Course and Beau Welling's West Course are expected to open in the summer of 2022 after having been molded and sculpted out of mostly flat Texas terrain. A 10-hole short course called The Swing and a mammoth putting green called The Dance Floor are also in the works, as is an Omni Hotel. Play these courses before they start hosting majors, like the 2023 KitchenAid Senior PGA Championship, the 2025 KPMG Women's PGA Championship, and the 2027 PGA Championship.
While You're in the Area: Most of the best courses in the Dallas area are private, but you can't go wrong teeing it up at Cowboys Golf Club, Old American Golf Club, or Tribute Golf Links with its many fun replica holes.
Sheep Ranch at Bandon Dunes (Bandon, Ore.)
It has to be said: You didn't really need another reason to visit Bandon Dunes. Bandon already had four of them—plus the Shorty's and Bandon Preserve par-three courses and Punchbowl putting course. But visionary owner Mike Keiser has given you one more reason to come anyway. And what a reason it is. This Coore & Crenshaw creation sits right on the rocky Oregon coastline, and it's an 18-hole thrill ride you'll want to go on again and again. All three of the front nine's par threes play right to the edge of the Pacific, as do the cliffside par-three 16th and several other holes. It's every inch a shotmaker's course, offering you options all day long (including the bump-and-run option for when the wind is up). You'll need to plot your way carefully around this course, though, and keep it out of the gorse, to score well. But you'll be smiling every step of the way.
While You're in the Area: Is there a better area in America for golf? You can't come here without playing them all: Bandon Dunes, Pacific Dunes, Bandon Trails, and Old Macdonald—they're all stellar and justify the trek to this remote part of the Oregon coastline.
International Destinations
Costa Palmas (Los Cabos, Mexico)
The new course at the Four Seasons Resort Los Cabos at Costa Palmas bills itself as a symphony comprised of three beautiful movements: Dunescape, Upland, and Marina. Robert Trent Jones II was the conductor here, and the maestro was in fine form. You'll love the artistic contouring around the greens, the sinewy forms of the fairways often bordered by sand, and the dramatic views of the Sea of Cortez. This wonderfully walkable course got clobbered by Hurricane Olaf in September 2021 and had to close some holes, but they'll undoubtedly get them reopened without delay.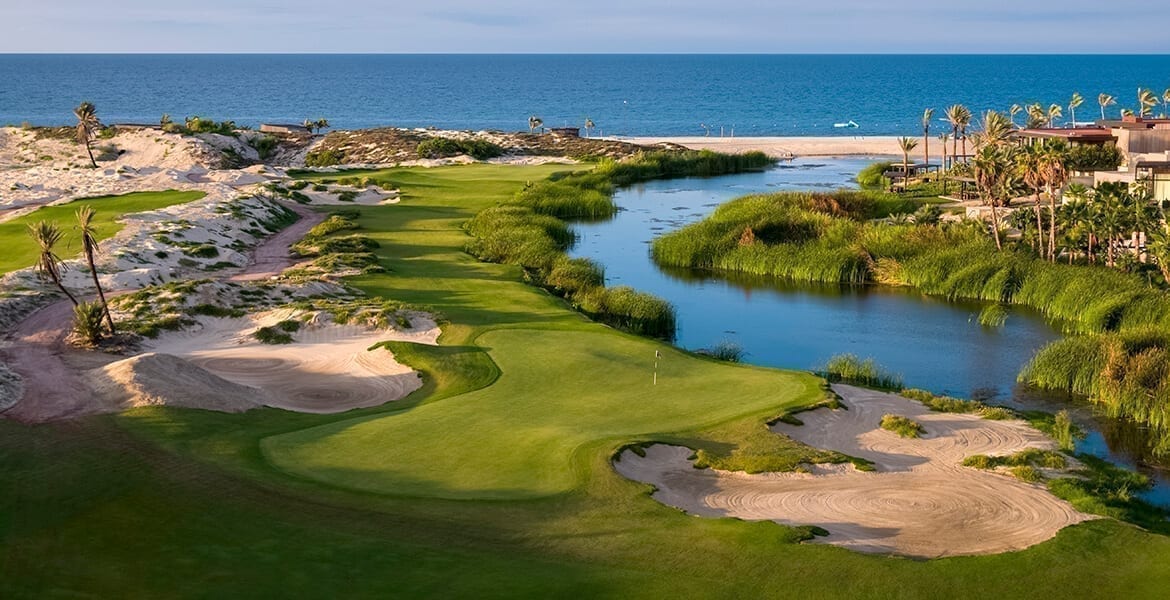 While You're in the Area: Los Cabos offers great golf practically without end. Courses you'll definitely want to play include Quivira; the two Diamante courses (Dunes and El Cardonal); Chilleno Bay; the Cove Club; and the three Questro Group courses—Cabo Real, Puerto Los Cabos, and Club Campestre. After your round, head straight to The Office, one of the world's great beach bars.
Dumbarnie Links (Leven, Scotland)
Scotland's Kingdom of Fife is blessed with a dozen great links courses, including the granddaddy of them all, the Old Course. The latest addition to that stellar lineup is the Clive Clark-designed course, Dumbarnie Links. Scottish golf writer Malcolm Campbell, a friend of Clark's, discovered this site while on a coastal walk many years ago. Today, his dream of seeing a links course emerge on this large site has become a reality. Dumbarnie is a pure links, with views of the sea throughout your round. Clark blessed it with options galore, including drivable par fours and split fairways. They played the Women's Scottish Open here in 2020 and it has quickly become regarded as one of Scotland's finest courses—Open rota courses included. It should be included on any future trip to Scotland. It's that good.
While You're in the Area: You should certainly play the Links Trust courses (Old Course, New Course, Castle Course, etc.) if you haven't already. But save time for the lesser-known links gems like Elie, Lundin Links, and Crail.
Mickelson National (Rocky View, Alberta, Canada)
I was delighted when I first heard about Mickelson National—because Alberta has long been one of my absolute favorite golf destinations and I will latch onto any excuse I can find to return there. Mickelson National is a very good excuse, indeed. A true championship course that tips out at almost 8,000 yards, it's destined to become one of the Calgary area's best private clubs. But for 2022, they are planning to allow some public play, so get there while you can. Mickelson turned a flat plot of prairie land into an anything-but-flat tester worthy of hosting a PGA Tour event. Wide fairways and massive greens belie the sneakiness of this dramatic course, which also offers majestic views of the nearby Rocky Mountains right up until you hole out at the highly memorable par-five 18th.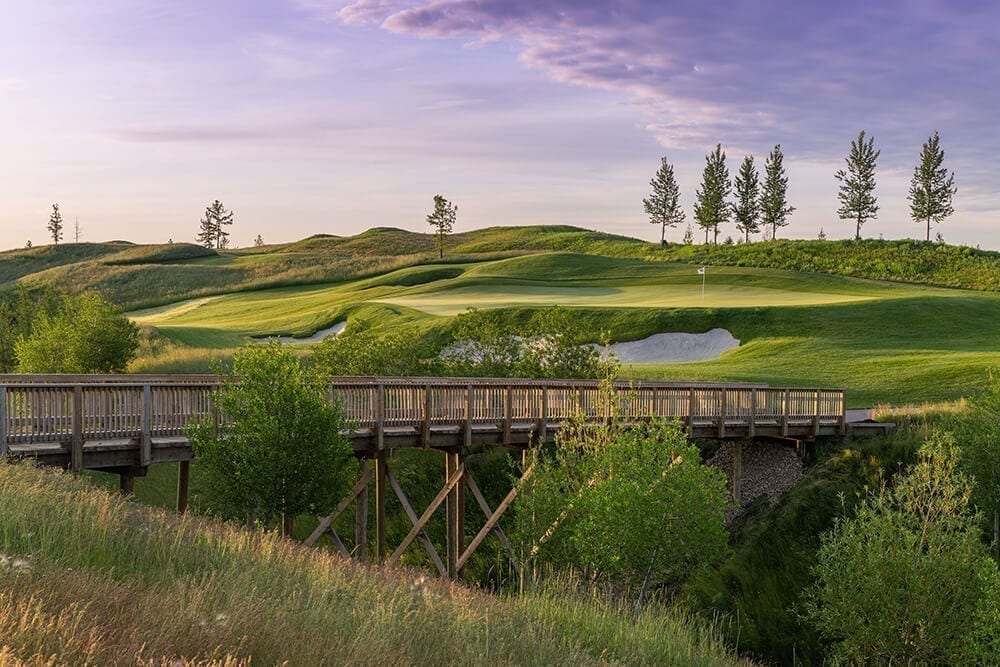 While You're in the Area: Alberta is one of the premier mountain golf destinations in the world. Courses like the Stanley Thompson-designed gems at Banff Springs and Jasper Park Lodge are only the beginning. Blackhawk Golf Club, the Kananaskis Country courses, the two courses at the Wolf Creek Resort, Stewart Creek Golf & Country Club, and the incredible Les Furber-designed Silvertip with over 600 feet of elevation change—they're all spectacular. I'm convinced the Canadian Rockies were created with golf in mind.
St. Patrick's Links, Narin & Portnoo, and the Wild Atlantic Dunes Course at Carne (Northwest Ireland)
You have three new reasons to beat a path to Ireland's northwest corner in 2022. First, the new Tom Doak-designed St. Patrick's Links course at the Rosapenna Resort, that resort's third top-notch offering. It's received rave reviews ever since it opened in 2021—as has the Gil Hanse redesign at Narin & Portnoo. Then there's the Wild Atlantic Dunes course at Carne Golf Links, which gives that club 27 amazing golf holes now, all set in and amongst the biggest dunes you'll ever search for balls in.
View this post on Instagram
While You're in the Area: Northwest Ireland offers the best value of any links golf destination in the world. And what courses! Ballyliffin (with two superb tracks), Enniscrone, County Sligo, Donegal, Portsalon—they're all incredibly good. As is the warm welcome you'll receive in this part of the world.
Te Arai Links (Te Arai, New Zealand)
Within the next couple years, two spectacular new courses will open at Te Arai, which is located on New Zealand's North Island, northeast of Auckland and just up the coast from acclaimed Tara Iti. In 2022, it will be the Coore & Crenshaw-designed South course that will debut, and everything points toward it being well worth traveling halfway around the world to play. Sixteen of its links-style holes will offer sweeping ocean views, and nearly all will play in and around dunes and sand ridges that have been in place for centuries. In 2023, Tom Doak's North course is slated to open.
While You're in the Area: Nearby Tara Iti is a private club, but visitors can visit the club (once) and you definitely should. Other must-play North Island courses include: Kauri Cliffs, Cape Kidnappers, Paraparaumu Beach, and Titirangi, New Zealand's only Alister MacKenzie-designed course.
What public golf destinations are you looking forward to visiting in 2022?